Palermo, the biggest city in sicily and Monreale, one of the greatest extant examples of Norman architecture in the world
We offer unique travel experiences in Sicily with personalized and tailor-made tours. Let's explore Palermo & Monreale together, local friendly staff and comfortable vehicles at your disposal.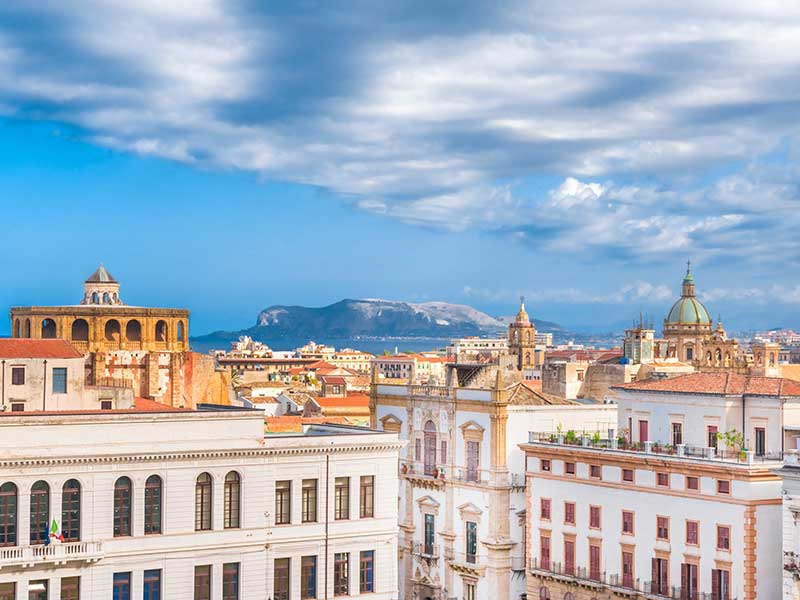 Capital for both the Arabs and the Normans, Palermo's monuments reflect the magnificence of two worlds: East and West that come together in clashing contrast. This tour enables you to discover the capital of Sicily with its unique history, monuments, markets,people and churches. Inside the Royal Palace we will visit the 12th century Palatine Chapel, built by the Normans, but decorated with Byzantine- and Islamic-style mosaics. The nearby Cathedral was built by the Normans, but every new ruling dynasty that arrived added their own style to it. Then we will make our way through the Arab-style street market called Capo. This is really a cacophony of voices, flavors, perfumes and colors, very similar to souk markets in Arab countries. Then, we will drive to nearby Monreale where we will visit the Norman Duomo (Cathedral) decorated on the inside with over 6,340 sq. meters (almost 70,000 sq. feet) of mosaics and 24-carat gold!
Monreale. This cathedral is breathtaking. 55,000 sq.ft. of gold tile mosaics cover the ceilings. Even though many of the churches in Palermo offer beautiful art and architecture, this duomo and its cloister are over the top. Plan on spending at least an hour just craning your neck up to slowly discover the Bible stories depicted all around. Pictures will barely do the experience justice, but take some anyway because nobody back home will believe you without a chance to see at least some of the stories. Check the column in the cloisters – each 1 of 200 is decorated differently. The Norman King William II built the Monreale Cathedral, the symbol of the city, and dedicated to Santa Maria la Nuova around 1174. William's idea was to create an imposing structure that would surpass in beauty and grandeur the Palatine Chapel of Palermo and Cefalù Cathedral. Large sums of money and human labour were used to erect and decorate the Cathedral and work was completed in 1186. This was also the year that the Bronze door designed by Bonanno of Pisa was installed. The Cathedral interior is magnificent, highlighted by the 12th and 13th Century decoration against a gold background.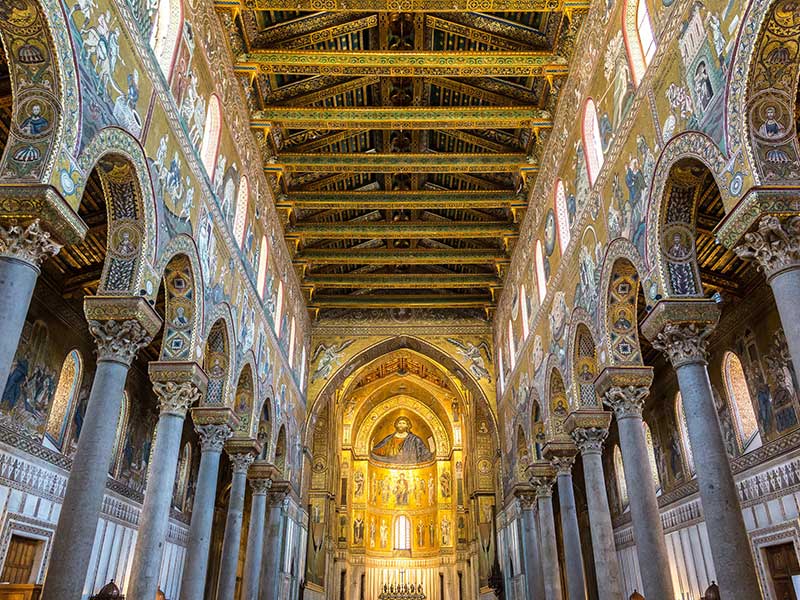 In case none of the above excursions suit your need and you wish to customize something for you, kindly write us specifying: - Your Group Size (and average age); - Your interests; - Port of Call and Cruise schedule. Our local staff will be pleased to work together with you to find something that fit your needs.
YOUR DESTINATION, OUR GOAL
---
Cars with license, The goal of our drivers is to satisfy you.
All our prices are per Vehicle and not per Person
No tax or extra cost
Insurance in good standing for the transport of persons and in compliance with the law in force
We accept cash payments, with major credit and debit cards or by bank transfer
CANCELLATION POLICY
---
If your cruise ship will not be able to enter the port, we will refund the entire deposit
If you cancel the reservation 7 days before the date of your excursion, we will refund 50% of the deposit
If you cancel the reservation 6 days before the date of your excursion or in case of no presence on your part, the deposit will not be refunded
---