Etna Volcano & Taormina Tour
The active Volcano and an Elegant Village
We offer unique travel experiences in Sicily with personalized and tailor-made tours. Let's explore Etna Volcano & Taormina together, local friendly staff and comfortable vehicles at your disposal.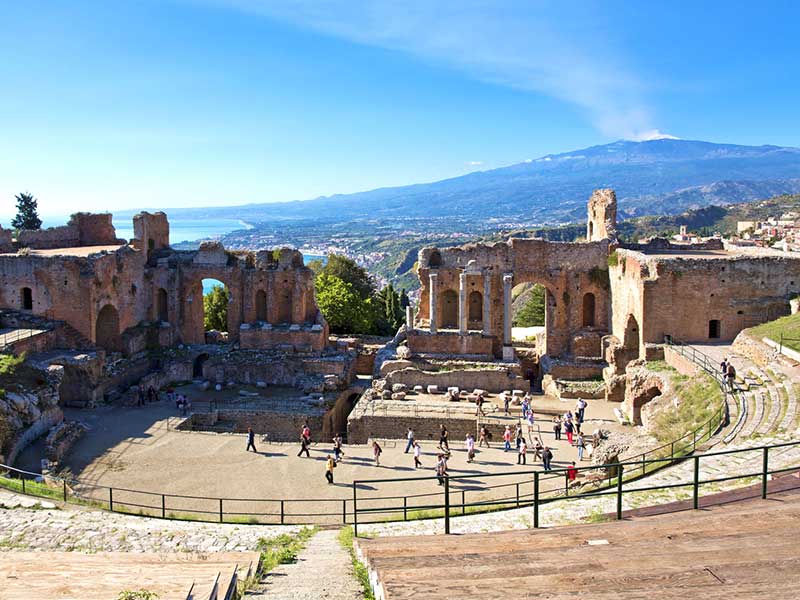 Taormina is an elegant town which is known for the good climate all through the year, the unbelievable views of sea and mountains. From Greek- Roman theatre You will be able to see the architecture of old Greeks and Romans and Etna together completing each other. The main street Corso Umberto is excellent place to visit shops and boutiques to buy the clothes of the latest fashion collections, return to the Harbour and time to say arrivederci Sicilia, greetings.
TAORMINA HIGHLIGHTS
Scenic drive through Giardini Naxos now days fishing village and natural harbor of Taormina, first Greek colony in Sicily on 734 b.c.
Scenic drive to Taormina Cape, Isola Bella and enjoy the view of Spisone and Mazzarò bay
Scenic drive on the hilly roads to Monte Tauro, where is located the pearl of Sicily, Taormina town.
Time to visit Taormina sightseeing's, Greek Roman amphitheater, Public Gardens, Corvaia Palace and stroll on the medieval charming main street, Corso Umberto.
Now is time to drive to the highest active volcano in Europe Etna around 12, 400 feet over the sea level. We rise until 2000mt where are the famous Silvestri craters, fantastic landscapes up here! Possibility to visit Zafferana little town what is famous for good quality honey, You will be able to see the procedures of producing the honey and taste some local olive oils and wines. Optional ( on request) is the visit to Tenuta Chiuse del Signore nearby Etna, vinery in the beautiful oasis of the forests and view to Etna, degustation and light lunch.We take the Mareneve ( "Sea and Snow") road with the beautiful scenic drive of Etna and Ionic coast to reach Taormina one of the most popular attractions of Sicily.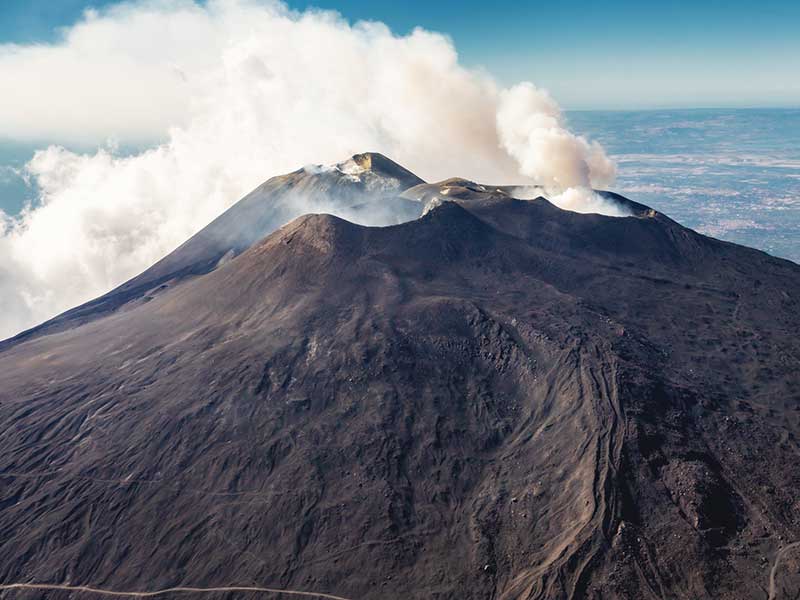 ETNA VOLCANO HIGHLIGHTS
Scenic drive to Mount Etna the highest active volcano in Europe
Stop and visit Zafferana Etnea town on Etna valley, where was placed one of the most recent lava eruption on year 1991
Scenic drive to Rifugio Sapienza on Etna Regional Parkand visit the Silvestri Craters born on year 1892
What to wear on Etna volcano
From May to October, a jacket or/and a jumper, comfortable shoes and sunglasses on a sunny day.
From November to April, a waterproof jacket and warm clothes.
In case none of the above excursions suit your need and you wish to customize something for you, kindly write us specifying: - Your Group Size (and average age); - Your interests; - Port of Call and Cruise schedule. Our local staff will be pleased to work together with you to find something that fit your needs.
YOUR DESTINATION, OUR GOAL
---
Cars with license, The goal of our drivers is to satisfy you.
All our prices are per Vehicle and not per Person
No tax or extra cost
Insurance in good standing for the transport of persons and in compliance with the law in force
We accept cash payments, with major credit and debit cards or by bank transfer
CANCELLATION POLICY
---
If your cruise ship will not be able to enter the port, we will refund the entire deposit
If you cancel the reservation 7 days before the date of your excursion, we will refund 50% of the deposit
If you cancel the reservation 6 days before the date of your excursion or in case of no presence on your part, the deposit will not be refunded
---